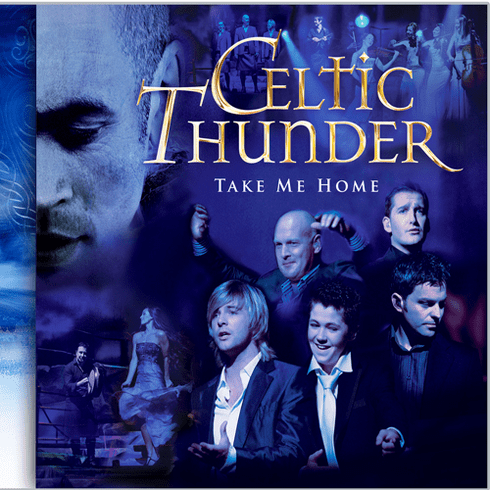 Celtic Thunder Take Me Home CD
NEW CD from Celtic Thunder
Release date July 14, 2009
ORDER NOW

Track Listing

1. The Homes Of Donegal
2. Working Man
3. Every Breath You Take
4. Belfast Polka/Pennsylvania Railroad
5. Happy Birthday Sweet Sixteen
6. Steal Away - From Celtic Thunder
7. Because We Believe
8. Wichita Lineman
9. Breaking Up Is Hard To Do
10. Green Fields Of France
11. Midnight Well
12. Appalachian Round Up
13. I'm Gonna Be (500 Miles)
14. You Raise Me Up
15. Take Me Home

Product Description

The new studio CD features 15 songs/14 never before on CD!

Celtic Thunders new CD "- Take Me Home" is new songs not featured on previous CD's. It will have 5 songs that are not on either the Pledge TV show or the new DVD. These are "Homes of Donegal" and "Wichita Lineman" from Keith, "Because We Believe" by Paul, a new original "Midnight Run" with Ryan and all of them in "Green Fields of France."

Also available: A new DVD with a running time of almost 2 hours features 13 new Celtic Thunder performances!

Celtic Thunder is

Damian McGinty He has loved singing from a young age and won his first singing competition at the age of 6

Keith Harkin Keith is a talented Songwriter and excellent Guitar player as well as an amazing singer.

Ryan Kelly Ryan has performed alongside Westlife, Girls Aloud and Simply Red in the televised "Children in Need Live Charity Concert" at the Odyssey in Belfast to an audience of over 8,000

Paul Byrom Two years ago Paul got to record the album of his dreams with a 54 piece orchestra. It was called Velvet and covered songs from the American Matinee era. Much to his delight it reached No.2 in the classical charts.

George Donaldson George has played alongside many folk musicians and singers, including Jim McCann and others from the Dubliners and has performed at the famous Glasgow Barrowlands.

Order NOW to be sure you get your copy of this very popular item.