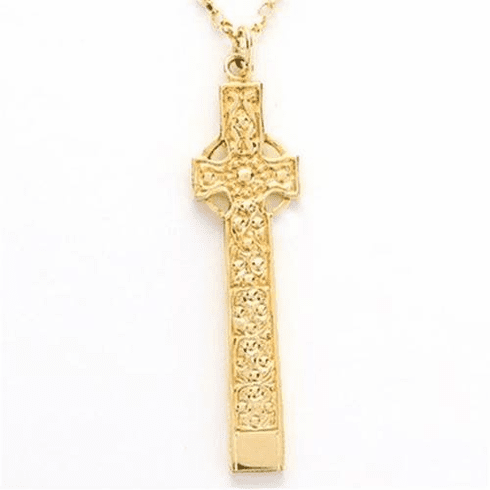 St Martin Cross of Iona 14K Gold
Iona is a small island off the Isle of Mull in western Scotland. It has been a "Holy isle" from time immemorial. An early Gaelic name for it was "Isle of the Druids". In the sixth century St.Columba (Columkille) went there from Ireland and founded a monastic settlement; still later there was a Medival Beuedietine Abbey on the same site; in the 1930's this was rebuilt by Sir George MacLeod for the newly founded Iona Community - a centre for prayer, reflection and reconciliation.

We know a great deal about the life of St.Columba. He went to Iona in 563. The settlement there would have been in the Celtic style., the monks living in seperate cells, coming together for meals and community prayer. From Iona the monks went to mainland Scotland, preaching the Gospel and setting up other foundations.

Columba went back to Ireland in 575AD where he defended the poets of Ireland at the council of Drumcaet. From there he travelled on, visiting some of his earlier foundations and founded the monastic settlement at Drumcliffe. He returned to Iona, which was now his home, and died there in 597.